National & Local Government
BUILDING RESILIENT CITIES
Providing health and safety for ourselves and our communities
Rapid response and resiliency will save lives as well as help communities recover faster if well managed.
During an emergency response, knowing the state of key buildings will ensure good decisions are made to triage safe spaces from those that are uninhabitable.
Red zoning and cordoning off streets in the city can be assessed quickly, identifying buildings that pose risk prior to waiting for onsite assessment – improving outcomes.
A 7M earthquake hits the Wellington Region
500 buildings are monitored in Wellington using our Structural Health Monitoring System.
Engineers set thresholds and properly assess each buildings structural health using sensors strategically placed within the building, rather than from surrounding areas making the data more accurate.
Within one hour of a major event Wellington City Council and the Government would be advised of these buildings' status – whether to occupy or evacuate, cordon off or use for shelter.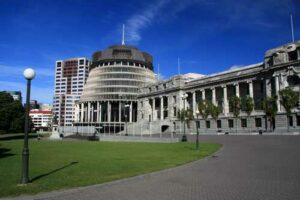 Where buildings and infrastructure are not monitored, it will take days to assess the buildings as engineers will have to physically visit and evaluate many buildings that they may not be familiar with.
With pro-active ongoing monitoring, engineers know and become familiar with the buildings and data. Rapid assessment and management can be dealt with more effectively, aiding quick recovery.
The big picture, building resilience
Engineers are able to review data in real-time, responding and ensuring shortened downtime. Collected data can be shared with academics and research institutes to build better with greater resilience in the future.
Buildings that are identified as having poor structural health can be monitored and repaired to strengthen and lower potential damage during an event. This will protect people and businesses. While this may not reduce insurance excess it will reduce inaccuracies and mitigate excess increases, using solid reliable data.
Digital mapping of cities
We are currently working with a digital company, Nextspace, to incorporate our sensor data to the digital twin models that they have of cities, which can monitor buildings and infrastructure citywide. Data will record a building performance within the city – providing a whole city status and overview. The effect and impact of natural hazards, degradation and changes are monitored as they happen.
This new technology will create a 3D outline of each building enabling clients to see a virtual model showing seismic impact, rather than relying solely on individual displacement charts. Data sets from different parts of the building can be retrieved from the 3D model.
3D real-time status
The potential of creating a digital twin model of a city allows rapid prioritising during a large seismic event. The data will show 3D real-time citywide status of buildings and infrastructure highlighting red status to evacuate or send emergency services. Using mobile device technology the software will provide data on how many people may be trapped within a building to prioritise search and rescue efforts.
Technology used
We use Bruce a Software as a Service (SaaS) solution to provide data from underground and built-up infrastructure, using data streams from real-time sensors. Data is fed to applications to create simulations. The software integrates 2D, 3D spatial and non-spatial data and is a universal geospatial user tool.